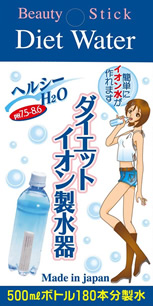 Diet Ion
Water Stick
Content 24g
It is included kinds of minerals and for diet by drinking every day.
It eliminates chlorine and chlorine odor in the tap water and makes tasty water.
Please drink water with 1.5L~2.0L a day. Improves your blood flow. Diet by drinking water with many minerals every day.
Good for tea, coffee, cooking rice, etc
Goes with whisky, etc
Prolongs the lives of cut flowers and other plants
Mix the content in a flowerpot after using for 3 months.









1, Put the product in a clean plastic 500-ml bottle. Fill it up halfway with water.
Shake the bottle up and down about 10 times, and dispose the water once.*

2, Fill up the bottle with fresh water, and allow the product to soak for about 90 minutes. The tasty, ionized water is now ready to drink.

3, For best results, consume a large amount water. The more you drink, the more effective.**

*A small amount of mineral particles may initially come out of the stick, but this is normal, and has no effect on the quality.

**If a prepared bottle of water is not consumed for more than a couple of days, in some cases, you may notice a slight chemical odor due to the high alkalinity. There is no problem with this condition; simply dispose the water and make a fresh bottle.
| | |
| --- | --- |
| | The water of dissolution for Diet Ion Water Stick (mg/l) |
| Calcium | 8.68 |
| PH value | 8.6 |
|  Residual chlorine | 0.05 |

From Hokkaido Pharmaceutical Association Public Health Examination Centre